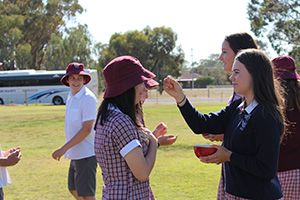 St Mary of the Angel's College is an authentic Catholic educational community based on Gospel values and the spirit of St Francis of Assisi. Our school has a commitment to ensuring Catholic values are central to all our endeavors. We aim to educate students in Catholic beliefs and tradition and together with the local church community and parents, the first educators in the faith, invite students to join the worshipping community.
The Dove a prominent component of our College Logo is symbolic of the Holy Spirit, whose inspiration and guidance we seek to follow. The words "Fiat mihi secundum verbum tuum" or "Thy Will be Done" was Mary's response at the Annunciation. These words remind us to strive to respond to God's will in our lives, in imitation of Mary.
Our Charism
At St. Mary of the Angel's College we are educating young men and women in the Franciscan tradition. Our aim is to emulate the model of St. Francis and Jesus in everything that we do. As a college we engage ourselves in the promotion of the person and the building of a society that makes possible, among other values, the practice of liberty, equality, truth, justice, solidarity and peace, interpreted and lived according to the Franciscan charism. We believe that a school that claims the Franciscan tradition aims to create an atmosphere which is fraternal, a sense of solidarity and belonging among all persons at the school, a community of self disciplined persons, a place of pardon and peace, a community of service within the larger social community and a human environment of beauty.
Prayer in the Spirit of St Francis