The Story Behind St Mary of the Angels
St Mary of the Angels Secondary College was established by the Franciscan Missionaries of the Divine Motherhood (FMDM) sisters in 1961.
The FMDM sisters were formally made a religious order in 1947 and were invited to the Sandhurst Diocese by Bishop Stewart to run the new parish primary school in Nathalia in 1961.
The pioneer Sisters were Sr. Maureen Barnard (known as Mother Mary), Sr. Ann Kiely (Sr. Gertrude), Sr. Mona Walsh (Sr. Cecilia) and Sr. Josephine Lanigan (Sr Laurentia). The school opened on February 8th 1961 with 120 primary and 5 secondary students. The original school building comprised of the brick section on the west side, (three classrooms, office and corridor).
The reason for establishing a school in Nathalia was to provide a holistic Catholic education, where Christian values and principles would permeate the entire curriculum. The early days were demanding though very happy, a time when there was no public funding to catholic education. The Sisters relied on the generosity of the parents and members of the local community to assist with providing the materials and equipment for the new school, within a few years the facilities were inadequate to accommodate the students and so the Sisters and members of the parents and friends built the necessary classrooms as they were needed. The original building was extended in 1963 and 1964.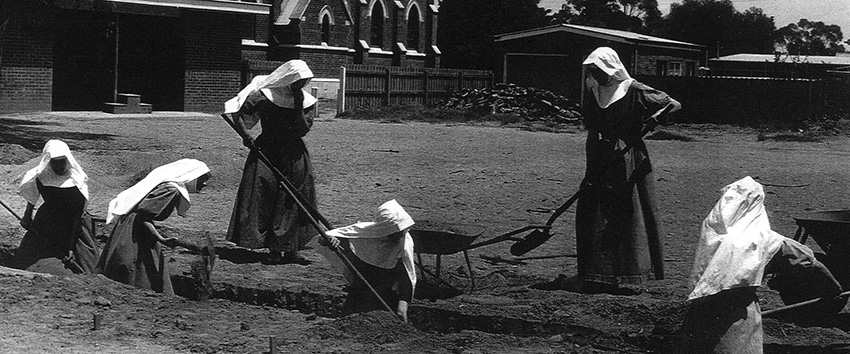 The first lay teacher Miss Mary Shiels joined the staff of Sisters in 1967. The first buses to transport students from Cobram and Tocumwal (21 students) started operating in 1975. In 1992 the College purchased its own buses and now operates its own system; some of our local students' transportation is provided by the state system.
In 1977 the primary students of St Mary's moved into a separate new building to the south of the original buildings. The primary school (prep – 6) is named St. Francis, while St Mary of the Angels' title was retained for the secondary College. In 1978 through the enterprise of Sr Ann Kiely, negotiations for the sharing of teachers and resources with Nathalia College began. The system has worked extremely well and affords the senior students the opportunity to have a greater choice of subjects than if the Colleges operated independently.
The first Principal was Sr. Maureen Banyard who was Principal from 1961 until 1974. Then followed Sr. Ancille Buckley from 1975-77. Sr Ann Kiely took over in 1978 and was Principal until 1985, when she departed Nathalia after twenty five "very happy years" of involvement in Nathalia. Sr Denise Boyle became Principal and continued the great work as leader in the College. In 1990 Mr Bill Teggelove became the first lay Principal. Under his leadership the College continued its Franciscan tradition and educational excellence, which has characterised the College since its inception. Down through the years some thirty Franciscan Missionaries of the Divine Motherhood have served in the College along with a dedicated lay staff. Sr. Carmel Spratt was the last of the FMDM Sisters to have a direct association with the College. Sr Carmel was an active member of the College Board and a frequent vistor of the College. In 2012 Sr. Carmel left Australia to take up a position in Rome, Italy.
Principals – St Mary of the Angels
Mother Mary of the Cross - 1961 – 1974
Sr Ancille Buckley - 1975 – 1977
Sr Ann Kiely - 1978 – 1985
Sr Denise Boyle - 1986 – 1989
Mr Bill Teggelove - 1990 – 1995
Mr Brendan Cooney - 1996 – 2002
Mr Chris Randell - 2003 – 2010
Ms Leonie Irwin - 2011 – 2015
Mr Matt Carver - 2016 - Present
Principals – St Francis
Sr Carol Doone - 1977 – 1982
Sr Jennifer Sanders - 1983 – 1990
Ms Bernadette Shiels - 1991 – 2008
Mrs Claire Kelly - 2009 - 2014
Mr Chris Summers - 2015 - 2017
Mr Matthew Knight - 2018 - Present
Timeline of Events
1960's
Dec 1960 - Garden Party to welcome Sisters to Nathalia; Councillor Grinter spoke on behalf of the Nathalia Shire. W.T Barry spoke on behalf of Nathalia parishioners
Feb 1961 - First day of school on February 8th. 120 Primary students and 5 Secondary students. Secondary students: Marie Bourke, Clare O'Shannassy, Margaret Herbertson, Freddie and Nello Cavallaro.
May 1961 - Official opening and blessing of the Convent and School. (School: 3 classrooms, office and corridor) Blessed by Bishop Stewart. Present Mother Francis Spring, Superior General FMDM, Fr Vincent Cochrane PP.
Feb 1962 - First Science Lab. Convent garage "fitted" with blackboard and bench. PP.
1963 - "Pink Hut" converted to "Meeting Room", Meeting Room became Yr7 classroom.
1964 - One room and further corridor added. Room used for Forms I, II and III.
1965 - Another attempt at a Laboratory. "Meeting Room" (Yr 7 classroom 1963) converted into Laboratory
1967 - First lay member of staff, Mary Shiels (past pupil) joined sisters on staff. She took prep grade and did her teacher training "on the spot".
1967 - First past pupil entered FMDM's. Patricia Murnane entered in Bendigo and later moved to England.
1970 - First proper Science Lab. Commonwealth grant received.
1970 - First boarders. Annette Joiner and Celeste Tracey (Cobram) and Elizabeth Hoban (Tocumwal).
1970's
1971 - Shelter Shed converted into classroom. Work done voluntarily by Mr V Donne from Bendigo (Sr Carol's father)
1974 - Fr Leo Lacey PP
Feb 1975 - Additional 3 classrooms. Financed basically by bequest of Mr & Mrs Martin Bourke.
1975 - First staff room. One of the small 1963 classrooms made into staff room
1975 - First bus from Cobram / Tocumwal. Twenty one students
1976 - Oval filled and underground watering system installed. Voluntary labour by parishioners.
1976 - First full time secretarial staff – Mrs Loretta Cobbledick
1976 - "Pink Hut" moved to make way for portable classroom
1976 - Two Army huts transported from Puckapunyal to be used as Wood Work and Art Rooms
1976 - Larger bus from Cobram / Tocumwal and first bus from Numurkah; 35 students Cobram / Tocumwal / Strathmerton; 18 students Numurkah
Feb 1977 - "Pink Hut" became Typing Room
July 1977 - Primary school moved to new site. Secondary school remained on original site. Primary school named St Francis Primary School, Primary student enrolment 127, Secondary school enrolment 158.
1978 - Fr Pat Farrell PP
1978 - Library extension, partly funded by Commonwealth grant.
1980 - Parents & Friends Association formed to replace Mothers Club. Another portable classroom added near Army huts on Chapel St side. Affectionately known as the "Yellow Peril" because of its color and lack of insulation. Fr Leo Ring PP.
1980's
1981 - Additional "five module" building added
1981 - Manual Studies Complex set up. Government grant for equipment. Finance for building alterations through P&F and donations from parents.
1981 - Additional classroom added to St Francis. Portable at rear of main building.
1982 - Staff and girls' toilets built. Government grant covered some of the financial cost involved.
1982 - First School Magazine – MARANG, Oliver was the first production
1983 - Additional "five module" building, two large classrooms and one small one (oval side of the school)
Feb 1984 - Two new classrooms adjoining 1983 building.
1984 - Time out room and Mr Thorpe's office. Final stage of "pink hut"
1984 - Production 'Rainbow Connection'
July 1984 - Second science room opened and extension to preparation room. Opening ceremony performed by Fr Ring.
1985 - Production 'Grease'
Feb 1986 - St Mary of the Angels Secondary School enrolment 315, St Francis Primary School enrolment 111. Total enrolment 426.
1986 - Farewell Sr Ann, West Side Story, Fr Les Ring passed away, Silver Jubilee
1987 - Rock Eisteddfod – 'I think I am going to fall in love'
1987 - Fr Robert Butonclay PP
1989 - Farewell Sr Denise, Rock Eisteddfod –'Devils & Angels'
1989 - Fr Michael Goonan PP
1990 - Welcome first lay Principal Bill Teggelove (St Mary of the Angels)
1990's
1991 - First Lay Principal – Bernadette Shiels (St Francis);Rock Eisteddfod – 'Wings to Freedom'
1993 - Rock Eisteddfod – 'The Odyssey'
1994 - Farewell Sr Carmel, last FMDM on staff; Franciscan Centre opened
1996 - Welcome Brendan Cooney Principal
1997 - Rock Eisteddfod – 'The Healing Hands'
1999 - Library Opened; Rock Eisteddfod – 'Braveheart'
2000's
2001 - New Canteen & Quadrangle, Dragon Garden; Rock Eisteddfod – The Man, the Mind, the Movie
2002 - New Uniform Introduced; World Youth Day Canada
2003 - Welcome Chris Randell Principal
2004 - October Fire - Administration Area Destroyed
Dec 2004 - St Francis Blessing / Official Opening, Refurbishment & New Portable building
2005 - Rock Eisteddfod – 'Superman - Christopher Reeve Story'
2006 - Administration Area Opened
2007 - Beginning of the development of the East Courtyard, Mosaic Couches built and the first Mosaic wall added
2008 - World Youth Day Sydney; Production – 'Wizard of Oz'; East Courtyard fountain completed
2009 - Claire Kelly appointed Principal St Francis Primary School; Production – 'Grease'
2010's
2010 - Yr 9 Area, Art Room, Science Labs & St Clare Auditorium Opened; Sr Mary MacKillop canonised; Dec 3rd Opening of St Francis Library/Multipurpose Building
2011 - Leonie Irwin appointed Principal; Inaugural Parents & Friends Debutante Ball; Production – 'Peter Pan'; Golden Jubilee
2012 - Trade Training Centre Automotive and Hospitality Opened; Parents & Friends Debutante Ball; Production – 'Oliver'
2013 - Parents & Friends Debutante Ball; Production - 'Beauty & the Beast'
2014 - Opening of the Senior Centre by Most Reverend Bishop Leslie Tomlinson (Bishop of Sandhurst); Parents & Friends Debutante Ball; Production - 'Bye Bye Birdie'
2015 - Chris Summers appointed Principal St Francis Primary School; Production - 'Annie'
2016 - Matt Carver appointed Principal; Parents & Friends Debutante Ball; Production - 'Pirates of Penzance'
2017 - Parents & Friends Debutante Ball; Production - 'The Little Mermaid'; Construction of Year 10 'Ladywell' Building is started and completed
2018 - Construction of Year 7 Building 'San Rufino' began; Matthew Knight appointed Principal St Francis Primary School; Official Opening and blessing of the Year 10 'Ladywell' Building by Most Reverend Bishop Leslie Tomlinson (Bishop of Sandhurst); San Rufino building's Opening and Blessing on November 12th, First Nathalia community Franciscan Pilgrimage; Sr Carmel Spratt FMDM travelled from Rome to visit the students and staff at the College; Production - The Drowsy Chaperone.
2019 - Production - Hairspray; 'The Franciscan Garden' Opening and Blessing on December 6th.
2020's
2020 - A first for St Mary of the Angels students moved to online learning in Term 2 due to Covid-19.
2022 - Production - Grease
2023 - Construction of 'Daboora' began this building project included a new Library, Year 8, Year 9 and Music Room; Production - Mamma Mia