Arts at St Mary of the Angels Secondary College encompasses a range of disciplines including Media Arts, Visual Arts, Dance, Drama and Music. Within these subject areas are opportunities for participation in college and community arts events. In the Arts, students are guided to develop their creative and expressive abilities by learning about arts practitioners and practices, making works to communicate ideas of their own, and considering impacts on a viewing audience.
With opportunities to work both independently and collaboratively, students of Arts subjects develop skills and knowledge to expand their capabilities as critical and creative thinkers, problem solvers and communicators.
Year 7 Students participate in a term-long rotation of Arts subjects including Drama, Music and Visual Arts.
Year 8 Arts subjects that can be undertaken as electives: Art, Drama, Music, Sculpture, Ceramics, Drawing, and Dance.
Year 9 Elective options: Art, Sculpture, Drawing, Ceramics, Dance, Drama, Media and Music.
Year 10 Elective options: Art 2D, Art 3D, Ceramics, Drama, Dance, Photography, Media, Music
VCE Subject selections options: Art Creative Practice, Media Studies, Drama, VET Music (Certificate 2 & 3 Music Industry Performance)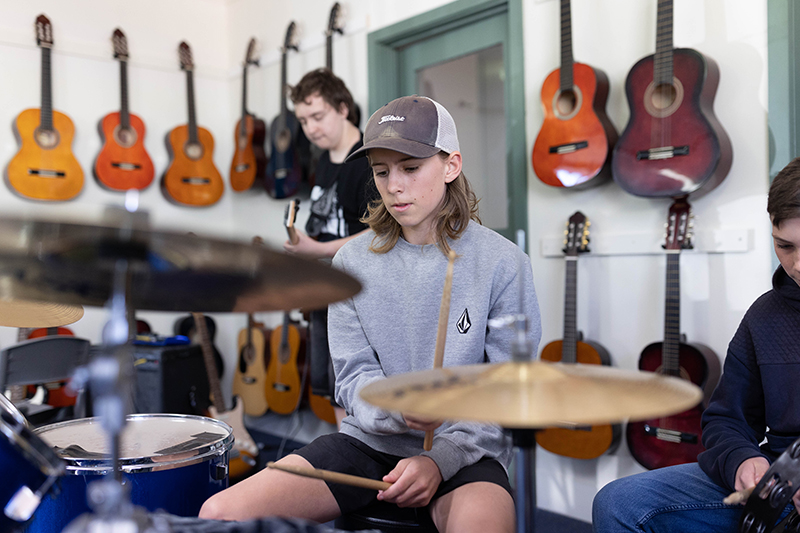 School band and Choir
The St Mary of the Angels school band and choir regularly perform at college events such as mass, assembly, and awards nights. Any student who plays an instrument or likes to sing, is welcome to join. Students rehearse at lunchtimes weekly throughout the school year.
Instrumental Program
St Mary of the Angels offers students an opportunity to undertake private lessons on a musical instrument. Instrumental lessons are offered as a complement to the classroom music curriculum and are an additional cost. Instrumental Tuition Scholarships are available each year for one junior and one senior student.
Production
St Mary of the Angels prepares one major musical production each year. We have performed many shows, including Annie, The Little Mermaid, The Drowsy Chaperone, Hairspray and most recently, Grease. Any student who is interested in participating in productions is welcome, whether to participate on stage, backstage, helping with hair and make-up or in lighting and design.
pdf List of SMOTA Productions (113 KB)